12 Days From
AUD$10164.00 pp
12 Days Traveling through the Ukraine & Hidden gems.
Up market solo sight seeing road trip in prestige car from Vienna in Austria and taking in the countries of- Czech; Poland; Ukraine; Hungary and Slovakia, this is an opportunity to open your world by seeing the real hidden countries.
History shows that this part of Europe from Germany to Ukraine has a checker'd past with inter country squabbling and lack of serious  civil traction, however there are magnificent locations and sights to experience in style and comfort of Europe Driving Holidays as this region moves forward.
Including stops in the great city's of Vienna, Budapest, Krakow, Prague, Bratislava and Lviv in the Ukraine all showing great architecture, art and beauty with sights not seen elsewhere as we journey through this Ex Iron Curtain country side. We stop and take in the country air, visit farmland villages through to forest regions making this trip both dynamic and interesting while staying and travelling in style.
Visiting Lviv a destination in Ukraine with interest in bygone times, with squares, theaters, shops, cafés, holy places, unspoiled landscapes… in short, places with charm which revere tradition, a taste for the home-made and home-grown, and the natural passage of time. A night in the gilt opera house with its red carpeting and seat prices tiered so persons of any persuasion can attend and appreciate the performances.
YOUR TRIP INCLUDES –
* Centrally located Luxury hotels each night.
* Twin share accommodation (single rooms available).
* Meals including 11 X breakfasts.
*  Premium personal car travel (group travel in suitable vehicle) with good luggage capability, driver/guide all fuel, tolls and parking fees.
PRICES EXCLUDE: Airfares; passport and visa fees; main meals, beverages; laundry; telephone calls; entry fees, souvenirs and items of a personal nature.
From – Vienna Airport to Vienna Airport, Austria
2023 COSTINGS –
TRAVELERS TRIP;  A$ 10,164.00 Single Person Tour
Reduced rates for couples or more, request a quote.
Day 1 Vienna
Arriving at the international airport in Vienna we meet you and drive to our hotel settling in before visiting sights around the city. Vienna's history dates back to the first post-Christian century when the Romans established their military camp. Today's cityscape is characterised by the abundance of baroque buildings created mostly under the rule of Empress Maria Theresia and Emperor Franz Joseph, who was largely responsible for the monumental architecture round the Ringstraße.
Schönbrunn Palace, the former imperial summer residence, is Vienna's most popular sights. The sumptuous palace with its beautifully tended formal gardens, the Gloriette monument, Palm House and zoo. Visit the huge Hofburg (Imperial Palace), which was the base of the Habsburgs for over six centuries.
Free time in Vienna
Overnight: Grand Hotel Wien  (or similar)
Day 2 Vienna
The splendid baroque Belvedere Palace today houses the Austrian Gallery, displaying the largest collection of works by Klimt and Kokoschka, as well as famous paintings by Schiele. Vienna's prime landmarks are the gothic Stephansdom (St. Stephen's Cathedral), the giant big wheel in the Prater (Vienna's old recreational park), and the Spanish Riding School with its famous Lipizzaner horses. In the heart of Vienna, 200m from the State Opera, you'll find a unique, tropical oasis – the Imperial Butterfly House. In one of the world's most beautiful Art Noveau palm houses you can admire around 400 live, free flying butterflies all year round. Absorb the colours and grace with which they float through the air, past waterfalls and exotic plants, in an environment as true to nature as possible.
Free day in Vienna
Overnight: Grand Hotel Wien (or similar)
Day 3 Prague
We drive today across the border and into Czech Republic through country roads and villages while heading for the capital Prague. During autumn season his region of the country turns the many colours of autumn leaves which makes a visual spectacular and uniquely attractive. Arriving in Prague we settle at our hotel prior to strolling the city and exploring.
6P/M to 9P/M Free time in Prague
Overnight: Four Seasons Hotel (or similar)
Day 4 Prague
Free day in Prague still a grand city with extraordinary historic and cultural sights, and it's definitely worth a visit. The often-rebuilt Prague Castle has overlooked the city since the 9th century, and the synagogues and cemetery of the Jewish Quarter are must-sees. Nightlife here is diverse and plentiful, from trendy clubs to sophisticated wine bars to late-night cellar bars.
Free day in Prague
Overnight: Four Seasons Hotel (or similar)
Day 5 Krakow
Today we head east through the Czech Republic, arriving in Ostrava we cross the border into Poland and on into Krakow the capital of Poland. The day takes us through towns and villages where we visit landmarks and see the country rather just the capital cities.
4P/M to 9P/M Free time in Krakow
Overnight: Hotel Gródek (or similar)
Day 6 Krakow
Being a free day in Krakow time to make the most of this city and its best known historic landmarks. The city boasts hundreds of historical buildings, from medieval churches to Art Nouveau edifices. Krakow's most popular ancient monuments are Wawel Royal Castle, Wawel Cathedral, St. Mary's church, Collegium Maius, Cloth Hall, Barbican, St. Florian Gate, Tyniec Abbey, and Old Synagogue and other Krakow Museums.
Free day in Krakow
Overnight: Hotel Gródek (or similar)
Day 7 Lviv
Leaving Krakow and continuing east we again border hop arriving in the delightful city of L'viv in the western quarter of Ukraine. This town explodes with personality and interest as the chocolate factory in the centre of town is a must for the sweet tooth drinkers. The evening should include a performance at the dazzling Opera House set in the city centre with its maroon carpeting and gold wall and ceiling edgings.
6P/M to 9P/M Free time in L'viv
Overnight: Delice Hotel (or similar)
Day 8 Lviv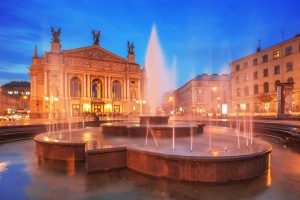 A free day to explore the city in detail as L'viv has a lively history, founded in the 13th century and has changed flags many times in the years since, having been part of Poland, Austria-Hungary and the Soviet empire. The city's well-preserved historic centre is a World Heritage Site and has attractions like the Market Square. Climb the tower at the town hall for a great city view.
Free day time in L'viv
Overnight: Delice Hotel (or similar)
Day 9 Budapest
Up early we drive from L'viv, crossing rugged country through Ukraine heading south to the border where Ukraine, Hungary and Slovakia meet before crossing into Hungary and the E71 into Budapest the capital. The hidden country lays before us with its vastness reminding us of stories of the plains that saw tanks and tank battles of the Second World War. Crossing Danube river we find our hotel for two nights before exploring the city.
6P/M to 9P/M Free time in Budapest
Overnight: Budapest Klotild Palace (or similar)
Day 10 Budapest
Today being a free day gives time to explore the city visiting this World Heritage location that the committee has listed – the view of the Danube embankments and the Buda Castle District which is one of the most beautiful and romantic parts of the city of Budapest. The latter is an ancient town district, giving home to some of the most important historical monuments in Hungary and founded approximately 800 years ago, with its beauty still standing unparalleled, despite earthquakes, fires, sieges and world wars. Visit the Statue of Liberty and the Citadel buildings themselves in Budapest bear tell-tale signs of recent and ancient history.
Free day in Budapest
Overnight: Budapest Klotild Palace (or similar)
Day 11 Bratislava
Driving from Budapest we head north keeping to the north bank of the Danube before crossing into Slovakia and meeting up with F75 roadway taking us into Bratislava, once again we see the Slovakian country side with its houses and fields all somewhat different to  Australian property. We explore this lovely city which is still off the beaten track of most tourists, thereby enabling you to enjoy the city's delights.
4P/M to 9P/M Free time in Bratislava
Overnight: Tulip House Boutique Hotel (or similar)
Day 12 Vienna
Today we leave Bratislava trying to keep to the north bank of the Danube traveling through the country regions before entering Vienna once more. Our destination is the Vienna Airport which we are at to suit the connecting flights, making this the conclusion of a fascinating trip with insights into the interior of these hidden gems of countries.
The above provides a glimpse of the flexibility and options open to you when travelling with Europe Driving Holidays.
You needed: Camera, open mind and plenty of smiles.
For day by day details:
Request more information here.
Fully inclusive of:
Pick up, Drop Off, Vehicle Travel, Luxury Hotels with breakfast and lunch each day for the duration of the agreed tour.
Enquire or book now to take advantage of these exciting personal trips.
Options and alterations:
Alterations and personalization of our driving tour is welcomed.
This map is indicative only.
As per all tours, all details (hotels, locations and points of interest) can be customised to suit your individual taste.
Subject to currency fluctuation.
Subject to availability.
Trips described on this site are not a quote or a set schedule, but a suggested trip that can be modified and await your confirmation.
All driving travel is subject to road and traffic conditions. If unforeseen conditions, deviations may be necessary.
Any nominated roads are shown as an indication only and not necessarily the roads travelled.
Full Travel/Health/Baggage Insurance is to be taken out by each traveller.
There are some accommodation locations that are most popular therefore the earliest confirmation of your intentions is recommeded.
Double room accommodation; Single room options available.
Free Day or Free time indicates that you have time to yourselves to explore, rest or sit around the pool.
Lists of sightseeing opportunities are available.
Non smoking trips
Full disclosure of any medical conditions is imperative including next of kin details.
Meal inclusions indicated are to a given value.
Legend:

[B] Breakfast included
[L] Lunch included
[D] Dinner included
Interesting Links
Here are some interesting links for you! Enjoy your stay :)