France > Italian Cruise Extension from Venice
11 Days From
AUD$9317.00 pp
Venice to Paris
We collect you and drive you on a 11 day holiday extension taking you from your Adriatic Sea cruise, Venice to Paris airport for your return flight to Australia. See the real country before returning home, make the most of your return airfare!
This extension holiday will take you north through the Alps of Italy visiting Cortina d'Ampezzo and onto Innsbruck, where we stay for a day visiting the markets, bridges and cathedrals of this famous city. Leaving Innsbruck we take you via one of the smallest landlocked countries of Liechtenstein prior to driving you to the Freienberg region on the banks of Lake Zurichsee and its magical beauty.
We spend a day exploring, you can take a boat trip to Zurich the capital of Switzerland, visiting the city sights and shopping centre. From Zurichsee onto Lake Zugersee and Lake Lucerne  where we spent two days on a hideaway location on the Lake side. You can visit Lucerne and its attractions or relax on the Lake or just sip your favourite glass of wine and local cuisine on the lake side.
This magical extension trip then takes you across to Lake thunersee where we stop at Interlaken and explore the Lakeside city. We then drive around the lakes and Bern to Lake Neuchatel north shore where we spend time with its majestic lake views, flowers views of the Alps. From Lake Neuchatel we drive you via Besancon and the market town of Dole into the regional capital 'Dijon' renowned for its mustard. After spending time visiting Dijon we head north via the charming city of Auxerre and onto Paris to meet your connecting flight.
Considered one of the best road trips through Switzerland, EuropeDriving Holidays are able to take single travellers or small groups of up to 8 travellers on this real country Extension trip taking in France, Switzerland and Italy.
Other cruise Extension Trips from:-
Barcelona; Marseilles; Monaco; Genoa; Rome; Southampton; Dublin; Belfast and Amsterdam.
YOUR TRIP INCLUDES –
* Centrally located Luxury hotels each night.
* Twin share accommodation (single rooms available).
* Meals including 10 X Breakfasts only.
* Premium single or group travel in suitable vehicle, with good luggage capability.
* Driver/guide, all fuel, tolls and parking fees.
PRICES EXCLUDE: Airfares; passport fees; meals other than breakfast; beverages; laundry; gratuities; telephone calls; souvenirs and items of a personal nature.
From – Venice Port – CDG Paris
2023 COSTINGS –
SINGLE TRAVELLER TRIP;     A$ 9,317.00 Single Person Tour
Reduced rates for couples or more, request a quote.
Day One

Collect from Port or local Hotel to Innsbruck.
We drive from Venice along the causeway heading northwest towards Vicenza stopping at Verona for lunch. Visit the Piazza Delle Erbe, Castelvecchio bridge or Scaliger Tombs before travelling through the picturques Alps via Trento into Innsbruck which is set on the banks of the Inn's River.
Overnight: Hotel Mondschein (or similar) Arrival approx 4.30p/m
Kilometers Travelled:- 300-400 km
Meals:- D.
Day Two

City of Innsbruck
Innsbruck,  Austria's western state capital of Tyrol, a city in the Alps that's long been a destination for winter sports. Innsbruck is also known for its Imperial Palace and modern architecture. The futuristic, Zaha Hadid-designed Hungerburgbahn funicular climbs from the city center up to the Nordpark resort as you sit admiring the sights over a well earned glass of local wine.
Overnight: Hotel Mondschein (or similar).
Kilometers travelled:- Nil
Meals:- B & D.
Day Three
Leave Innsbruck for Freienbach region.
We leave Innsbruck taking the Western route on the A12 toward Liechtenstein stopping and taking in this tiny country. Skirting Lake Walensee and arriving in the Feierbach region where we enjoy the lake side hotel which is our overnight stop. Boutique shops, cafe's and the harbour offer a holiday mode back drop as we enjoy yet another evening.
Overnight: Hotel Hirschen (or similar)Arrival time; approx 5p/m
Kilometers Travelled:- 250-300 km.
Meals:- B & D.
Day Four
Freienbach
We spend the day in the region exploring or take a lake paddle steamer down the Lake Zurichsee to the city of Zurich where you can visit the Grossmunster, Gewerbeschule or the Schauspielhaus or just enjoying the architecture, museums of interest, cafes, restaurants and shopping quarters. the city with its towers, steep roofs and period buildings sits on the junction of the river Limmat and lake.
Overnight: Hotel Hirschen (or similar)
Driving kilometers:- Nil
Meals:- B & D.
Day Five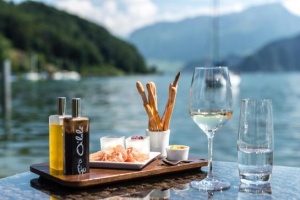 Howe, Lake Lucerne.
Today we drive through the Alps and the town of Zug, driving around Lake Zug See and on towards  Kussnacht where we link up with Lake Lucene which we trail, taking in the beauty spots stopping as required. We bypass the city of Lucerne and find out accommodation located on the banks of the lake a short distance from the city.
Overnight;
Overnight:- Sternen Hotel (or similar) Arrival time; approx 5p/m
Driving kilometers:- 150 km.
Meals:- B & D.
Day Six
Lake Lucerne
After breakfast we explore the Lake which is surrounded by the Alps creating tranquil waters for its resident Swan family. Options today include a visit to the city of Lucerne where you are able to experience the Swiss hospitality, local harbour, cafe's, shopping and museums full of local history. This central Swiss city sits amid snowcapped mountains on the north end of Lake Lucerne. With its colorful Altstadt (Old Town) and 14th-century Museggmauer city walls, covered bridges including the iconic Kapellbrücke and spired, turreted buildings, it's the storybook image of a Swiss town.
Overnight; Sternen Hotel (or similar)
Driving Kilometers:- Nil
Meals:- B & D.
Day Seven
Lake Neuchatel
We leave Lake Lucerne this morning and again are shown the way through the Alps via valleys and passes, we skirt the might Engelberg Mountain as we drive into Interlaken set between two lakes for lunch and a visit to this watch capital of Switzerland. In the afternoon we pass Thun and skirt Bern arriving at our next stop being Neuchatel where have time to admire the lake and local spots of interest.
Overnight;Hotel Jean-Jacques Rousseau (or similar) Arrival time;Approx 5p/m.
Driving kilometers:- 200 – 250 km.
Meals:- B & D.
Day Eight
Neuchatel
Neuchâtel, being French for new castle; Neufchâtel is the capital of the Swiss region of Neuchâtel on Lake Neuchâtel. The region is also the heartland of the celebrated Swiss watchmaking industry, centered on the once-famous towns of La Chaux de Fonds and Le Locle which we visit, the Doubs river marks the border with France, set down in a gorge and forming along its path an impressive waterfall, the Saut du Doubs, and lake, the Lac des Brenets.
Overnight; Hotel Jean-Jacques Rousseau
Driving kilometers:- Nil
Meals:- B & D.
Day Nine
Across Swiss border.
Driving from Lake Neuchatel we cross the Swiss border into France once more as we travel through the country roads of France to Besancon for lunch and a good look at the provincial town before crossing country roads arriving at the market town of Dole in the Jura region which is set on the side and junction of the Le Doubs river and the Jean Monnet canal.
From Dole we drive onto the regional capital Dijon, renowned for its mustard and cathedral you have the option of exploring this prized town with its quaint town square, coloured roofs, cafe's and the Hotel Du Nord where Beef Bourguignon is at its best.
Overnight; Sofitel Hotel:- Arrival time; approx 5p/m.
Driving kilometers:- 200 – 300 km.
Meals:- B & D.
Day Ten
Auxerre.
We leave Dijon behind after breakfast driving north before reaching the town of Auxerre set on the side of the river Yonne with it's twin cathedrals stand proud. We explore the town with its unique shopping area  before settling for lunch opposite the l'Horloge. Following the stroll through the town
Overnight; Sofitel Hotel:- Arrival time; approx 5p/m.
Driving kilometers:- 200 – 300 km.
Meals:- B & D.
Day Eleven
Auxerre to Paris.
Today we continue to drive north to the capital Paris and onto Charles De Gaulle airport to marry into your return flight to Australia. Alternatively a hotel can be arranged in Paris should flights be at a later time, likewise an extra Extension trip could take you to London.
Hotel:- Nil
Driving kilometers:- 300 – 400 km.
Meals:- B.
This map is indicative only.
As per all tours, all details (hotels, locations and points of interest) can be customised to suit your individual taste.
Subject to currency fluctuation.
Subject to availability.
Trips described on this site are not a quote or a set schedule, but a suggested trip that can be modified and await your confirmation.
All driving travel is subject to road and traffic conditions. If unforeseen conditions, deviations may be necessary.
Any nominated roads are shown as an indication only and not necessarily the roads travelled.
Full Travel/Health/Baggage Insurance is to be taken out by each traveller.
There are some accommodation locations that are most popular therefore the earliest confirmation of your intentions is recommeded.
Double room accommodation; Single room options available.
Free Day or Free time indicates that you have time to yourselves to explore, rest or sit around the pool.
Lists of sightseeing opportunities are available.
Non smoking trips
Full disclosure of any medical conditions is imperative including next of kin details.
Meal inclusions indicated are to a given value.
Legend:

[B] Breakfast included
[L] Lunch included
[D] Dinner included
Interesting Links
Here are some interesting links for you! Enjoy your stay :)