14 Days From
AUD$13858.00 pp
14 Days Golf, taking on European Teams.
One, Two or Four players enjoying the experience of playing on the Greens of Europe and friendly rivalry with similar capped players in each of the visited countries. Build an international network of like minded golfers for reciprocal games in the future. EuropeDriving Holidays arranges your entire golfing holiday experience from your arrival to your departure. London to Switzerland returning to Paris, France via Belgium, Germany and France. Crossing borders and through the countries to golden golf courses,  Better golf score cards, scenic views and history of old Europe.
We visit vineyards, small villages, towns and great Chateaux. This memorable trip will take you to first class golf courses. We offer free time in cities of interest. Our travels will see diversity in culture and scenery as we take country roads through England, France, Belgium, Germany and Switzerland, stopping for local refreshments and meeting people that have lived in the districts for many years.
This trip experiences visits to Leeds Castle where golf is played.  We travel through forests where wars have been fought in the past, visit wide rivers where a leisurely canoe can be enjoyed or hot air balloon flight can be taken for relaxation before or after the game of golf. Then enjoy a cool drink on the patio over looking the still waters of the mountain backed Swiss lake while recalling the earlier golf game.
Driving along country roads we find natural sightseeing locations yet stopping at preferred locations for lunch. We travel through the Ardennes, around the Alps, along the Rhine and through Champagne France making this a memorable luxury golf holiday never to be forgotten.
YOUR TRIP INCLUDES –
* Centrally located Luxury Golf hotels each night.
* Twin share accommodation (single rooms available).
* Meals including 9 X breakfasts.
* Premium personal (Optional – sports) car travel (group travel in suitable vehicle) with good luggage capability, reliable driver/guide, all fuel, tolls and parking fees.
PRICES EXCLUDE: Airfares; passport fees; main meals; beverages; laundry; gratuities; green fees; buggy and or trolley hire; telephone calls; souvenirs and items of a personal nature.
From – London, Hilton Hotel Heathrow Airport T4 – CDG Paris Airport
2023 COSTINGS –
TRAVELERS TRIP;     A$13,858.00 Single Person Tour.
Reduced rates for couples or more, request a quote.
Day 1
We meet you on arrival at London Heathrow Hilton Airport Hotel T4  for this fourteen day European Golf holiday. We drive through the English countryside known as the garden of England to our first destination in the English village of Bearsted with its village green and twin Pubs close to the city of Maidstone. The time of our arrival gives you time to walk the town and explore or rest after your flight.
Free time in Bearsted
Overnight: Tudor Park Marriott Hotel (or similar)
Day 2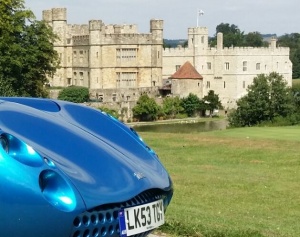 Golf in the morning at a time to suit, we drive to Leeds Castle in Kent being the selected course enabling the first days golf in England. After arriving, unloading clubs and signing on, you will meet the selected English golfers that will accompany you for the day's pre-arranged style of game, then, commencing either by walking or via buggy seeing and experiencing the new and different course with good company and finally completing the 18th with a well earned beer in the 19th hole. Once the course has been conquered we take a photo or two before taking the country roads through local villages and Pubs back to Bearsted, our overnight location.
Free time in Bearsted
Overnight: Tudor Park Marriott Hotel (or similar)
Day 3
Today we take time out to visit one of the bastions of Britain – Dover Castle – poised on the top of the White Cliffs of Dover, this intrepid castle offers the visitor many different experiences through history including the recently upgraded communications tunnels of WW2. From this vantage spot one can watch the cross channel ferries maneuvering through the harbor narrows and out to sea. We drive through the Kent Downs stopping at a village Pub to enjoy the ambiance of quaint England hospitality.
Free time in Bearsted
Overnight: Tudor Park Marriott Hotel (or similar)
Day 4
Today we drive to the Eurotunnel in Folkestone catching a shuttle for the 20 minute journey under the English Channel (optional Boat crossing). Once in France we motor towards the east and the quaint city of Lille renown for its chocolate and medieval architecture. Explore this lovely city and contemplate the next golf game with new rivals.
Free time in Lille
Overnight: Center Grand Palace Hotel (or similar)
Day 5
Heading south from Lille we cross borders at Sedan well know for the early battles of WW2 into southern Belgium, the Ardennes forest region along the Semous river where our hotel is situated for the next two nights. We have time to visit the small hamlet and sit on the patio with a local beer watching the swans on the calming river before dinner or take a kayak and a leisurely workout down the river for an hour or two prior to a well earned refreshment on the terrace .
Free time in Semous
Overnight: Chateau Royal Hotel (or similar)
Day 6
A new Golf course, Chateau Royal d'Ardennes in Belgium at your finger tips. Arrive, unload clubs and sign on before meeting the second international Belgian golf team who will be your companions for the second in the 5 game series. Commence either by walking or via buggy. After the game of golf enjoy the opportunity to visit Bouillon a magic medieval gateway from the East into France in days of old, or a pleasant kayak trip down river before a bottle of wine under the leafy canopy on the hotel patio.
Free time in Semous
Overnight: Chateau Royal Hotel (or similar)
Day 7
We transit Belgium and drive across borders into the small lush country of Luxembourg where we spend the night in the Capital. Luxembourg offers the visitor many sight seeing opportunities through both day and night, as history abounds through these regions.
Free time in Luxembourg.
Overnight: Carlton Hotel (or similar)
Day 8
Today we again cross borders making our way across the German border  through the natural forests alongside the renowned Black Forest, across and along the great Rhine River into the delightful German town of Heidelberg where we find our hotel for the next two nights in the shadows of Heidelberg castle. The town offers you views of the switch back Rhine River, medieval architecture, cafe's and is home to the Cuckoo clock with an abundance of restaurants.
Free time in Heidelberg.
Overnight: Hotel Heidelberg (or similar)
Day 9
Off to Golf at Wendelinus championship course in Germany, at a time to suit, arriving, unloading clubs and signing on, the greens await the challenge and the enjoyment of adding yet another international course to your list of clubs played. (optional playing companion) Once finished and the usual photo session we explore the area taking the country roads through local villages and beer houses back to our over night location.
Free time in Heidelberg.
Overnight: Hotel Heidelberg (or similar)
Day 10
We are met by the third international group of golf players at the German XXXX course where we spend time to all introduce ourselves to the team members that will accompany you on this course with some social rivalry being of a similar golf handicap as you.  The day ends making friends with these new contacts enabling you to keep in touch into the future with hopefully reciprocal games on your home territory.  After the game we drive around the Alps and Rhine river cross borders and vineyards deep into Switzerland to a delightful nights accommodation set on the banks of Lake Lucerne in Switzerland.
Free time in Lucerne
Overnight: Sternen Hotel (or similar)
Day 11
With a leisurely start to the day we enjoy the lake in Lucerne, a city of high interest before meeting the Swiss team at the golf club for an afternoon game at a course set in between the high peaks of the Alps mountains. This is a unique and majestic course played with like minded friends to complete the fourth international game and yet again developing further future gaming friends from a unique corner of the world.
Free time in Lucerne
Overnight: Sternen Hotel (or similar)
Day 12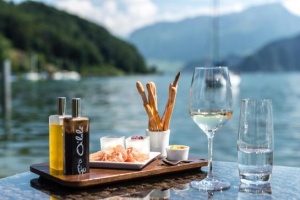 Driving across the border we enter France after bypassing the Swiss city of Bern, tracking through central France on through Besancon, market town of Dole set on the river Le Doubes before arriving at our days destination of Dijon, the colorful regional capital. Dijon is the home of Mustard and the French culinary dish of Beef Bourguignon, followed by strawberries dipped in white sugar.
Free time in Dijon
Overnight:  Sofitel Hotel (or similar)
Day 13
Yet another course at your finger tips, the country Golf club near Dijon in France provides the fifth and last international game of the holiday tour. Meeting the French team you will enjoy an interesting day competing with friendly rivalry against the French, either walking or via buggy. Following the mornings golf take the opportunity to visit the region's attractions before a enjoying a glass of wine on the hotel patio followed by dinner.
Free time in Dijon
Overnight:  Sofitel Hotel (or similar)
Day 14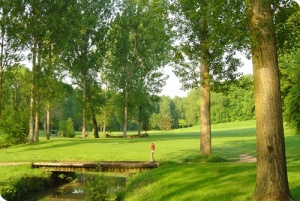 Another early start enabling us to drive north towards Paris, we detour to visit the lovely twin cathedral town of Auxerre set on the banks of the Yonne river with there pleasure boat port. The town offers good window shopping, cafe's, architecture and an opportunity to visit the La Tour de l'horloge. Leaving after lunch we continue north across the central plains of France and into the city of Paris capital of France with its old center attracting some 60 million visitors each year. Charles de Gaulle airport is the terminal of this magical trip providing memories and new international contacts/friends from five countries of Europe. Wing your way home armed with photos and stories to tell colleges and family on arrival in Australia.
Request more information here.
Fully inclusive of:
Pick up, Drop Off, Vehicle Travel, Luxury Hotels with breakfast each day for the duration of the agreed tour.
Enquire or book now to take advantage of one of our exciting personal trips or tell us what or where you would like to go and we will take you there.
Options and alterations accepted:
This map is indicative only.
As per all tours, all details (hotels, locations and points of interest) can be customised to suit your individual taste.
Subject to currency fluctuation.
Subject to availability.
Trips described on this site are not a quote or a set schedule, but a suggested trip that can be modified and await your confirmation.
All driving travel is subject to road and traffic conditions. If unforeseen conditions, deviations may be necessary.
Any nominated roads are shown as an indication only and not necessarily the roads travelled.
Full Travel/Health/Baggage Insurance is to be taken out by each traveller.
There are some accommodation locations that are most popular therefore the earliest confirmation of your intentions is recommeded.
Double room accommodation; Single room options available.
Free Day or Free time indicates that you have time to yourselves to explore, rest or sit around the pool.
Lists of sightseeing opportunities are available.
Non smoking trips
Full disclosure of any medical conditions is imperative including next of kin details.
Meal inclusions indicated are to a given value.
Legend:

[B] Breakfast included
[L] Lunch included
[D] Dinner included
Interesting Links
Here are some interesting links for you! Enjoy your stay :)