11 Days Flower Tour through some of England's heartland.
Escorted Solo road trip in prestige sports car from London to London return. Through the English counties in search of both Heritage gardens, private showings, natural flower settings and Bluebells through the forests. England offers a wide variety of wild and cultivated flowers from the humble field Daisy and Poppy to the Foxglove or Cowslip. Heratage and walled gardens in Wrist Park can include the views down the Long Water to the beautiful Pavilion created by Thomas Archer, the formal parterres, and Ladies Lake, which is refilled with water overlooked by a rare statue of Diana (goddess of hunting), which has returned to its original home at Wrest for the first time since the 1930s.
It was called the war of the Roses…. Pity it was not fought with flowers rather than Gun powder and pike, Flower Tour with Europe Driving Holidays explores 'whats behind the green door'. Roses are renown throughout England with varieties and colours that abound, from the old garden Rosa Canina to Shakespeare's Rosa Eglanteria we find your favourite blooms.
Driving along country roads on this Flower Tour we find natural locations to visit while stopping at preferred local Pubs for lunch or a picnic in the fields of daisies making this a memorable luxury Flower Tour holiday never to be forgotten.
YOUR TRIP INCLUDES –
* Centrally located Luxury hotels each night.
* Twin share accommodation (single rooms available.
* Meals including 10 X breakfasts.
* Premium personal (Optional- sports) car travel (group travel in suitable vehicle) with good luggage capability.
* Driver/guide all fuel, tolls and parking fees.
PRICES EXCLUDE: Airfares; passport fees; main meals; beverages; laundry; gratuities; Entry Fees; telephone calls; souvenirs and items of a personal nature.
From – London, Hilton Hotel Heathrow Airport T4 return – London
2017 COSTINGS –
TRAVELERS TRIP;     FROM £2,310.00 p/p
.
Day 1
After meeting we leave London Heathrow airport and drive across country to the University City of Cambridge, where time is spent both in the beautiful city, even a punt on the river banks prior to retreating for Diner. There are Ghost tours of the city should you wish to visit the past and maybe one of the old famous students; Wordsworth, Byron, Tennyson, Marlowe, Milton, Cromwell, Darwin and many more to consider.
4P/M to 10P/M Free time in Cambridge
Overnight: Double Tree Hotel (or similar)
Day 2
A free day in Cambridge City for you to explore and visit some of the University houses and museums of this famous City, or a trip into the village of Ashwell for an English afternoon high tea.
Free day in Cambridge
Overnight: Double Tree Hotel (or similar)
Day 3
Leaving the great City we drive towards Stowmarket and visit Wyken Hall Gardens before motoring across country to our day's destination in Grantham before arriving we call in to review the Easton Walled Gardens and the elegant Georgian Peckover House with its secret gem, an oasis hidden away in an urban environment. A classic Georgian merchant's town house, it was lived in by the Peckover family for 150 years. The gardens themselves are outstanding – 0.8 hectares (2 acres) of sensory delight, complete with orangery, summer-houses, croquet lawn and rose garden with more than 60 species of rose.
6P/M to 10P/M Free time in Grantham
Overnight: Angel & Royal Hotel (or similar)
Day 4
Heading north we take the country roads up to Clumber Park where we pop in to see hundreds of varieties of fruit and vegetables along with herbaceous borders, a rose garden and cut flower borders in the Walled Kitchen Garden. Later we arrive at the 18th-century architectural masterpiece with Landscape Park and gardens of a medieval priory, Nostell has been the home of the Winn family for 300 years. 121 hectares (300 acres) of parkland with a range of walks and views. Gardens include lakeside walks, a newly planted orchard. From here we arrive at Harrogate our location for the night and maybe a tea or coffee at Betties.
6P/M to 10P/M Free time in Harrogate
Overnight: White Hart Hotel (or similar)
Day 5
We leave Harrogate the best kept city in England and drive through the  Yorkshire Dales National Park where we'll stop for a pub lunch (included) before visiting Constable Burton Hall and possibly Malham Tarn Estate before arriving in the Lake District. Here we stop at the lovely cottage garden on the Hill Top where it has a haphazard mix of flowers, herbs, fruit and vegetables. Make your way up the garden path to the front door and see for yourself why Beatrix loved this place. Bought in 1905 with proceeds from her first book, the Tale of Peter Rabbit, she used Hill Top itself and the surrounding countryside as inspiration for many of her subsequent books.
6P/M to 10P/M Free time in Windermere
Overnight: Eltermere Inn (or similar)
Day 6
During day six we tour the lakes and enjoy the local ambiance exploring the lakes and finding the right location for lunch. We stay once again in the Eltermere Inn.
4P/M to 10P/M Free time in Keswick
Overnight: Eltermere Inn (or similar)
Day 7
We leave the Lake District for the southern drive to the University City of Oxford famous for its rowing achievements against old rivals Cambridge. We endeavour to stop at Upton House and Gardens where the gardens and house are displayed. From here we arrive and visit the city with its rich history.
6P/M to 10P/M Free time in Oxford
Overnight: Randolph Hotel (or similar)
Day 8
We drive south into the garden of England counties making our way towards Sissinghurst which is historic, poetic, and iconic; a refuge dedicated to beauty. Vita Sackville-West and Harold Nicolson fell in love with Sissinghurst Castle and created a world renowned garden. The poet and writer, began transforming Sissinghurst Castle in the 1930s with her diplomat and author husband, Harold Nicolson. Harold's architectural planning of the garden rooms, and the colourful, abundant planting in the gardens by Vita, reflect the romance and intimacy of her poems and writings. From the castle we arrive in the delightful smugglers town of Rye which finds many a corner to explore.
6P/M to 10P/M Free time in Rye
Overnight: The George Hotel (or similar)
Day 9
We stay a second night in Rye yet visit Dover with its white cliffs and Castle, driving the 'Downs' and admiring the village life and short wander across the fields.
6P/M to 10P/M Free time in Rye
Overnight: The George Hotel (or similar)
Day 10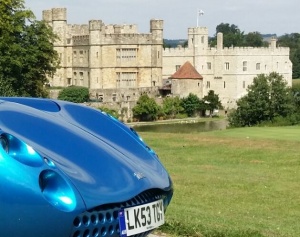 Today we travel via country roads to Leeds Castle, the castle and its grounds with maze, a grotto, a golf course and what may be the world's only museum of dog collars. This Grade 1 listed building (first listed in 1952) is recognized as an internationally important structure. Leeds Castle is one of 57 heritage sites in England which has a high visitor attendance. We stay in the castle where dinner is served in the vaulted dining room.
3P/M to 10P/M Free time in Leeds Castle
Overnight: Hotel Leeds Castle (or similar
Day 11
Our final day is taken up by a quick visit to Chartwell House the family home and garden of Sir Winston Churchill
Chartwell was the much-loved Churchill family home and the place from which Sir Winston drew inspiration from 1924 until the end of his life. The hillside gardens reflect Sir Winston's love of the landscape and nature. They include the lakes he created, the kitchen garden and the Marycot, a playhouse designed for his youngest daughter Mary.
Beyond the gardens there is an expanse of woodland with looped trails, natural play areas and swings. There is the den building, a Canadian camp and opportunities to stretch your legs before the final drive into London and the end of a memorable trip.
Circa 6 P/M arrival time in London
For day by day details:
Request more information here.
Fully inclusive of:
Pick up, Drop Off, Vehicle Travel, Luxury Hotels with breakfast each day for the duration of the agreed tour.
Enquire or book now to take advantage of these exciting personal trips.
Options and alterations:
Alterations and personalisation of our driving tour is welcomed.
This map is indicative only.
As per all tours, all details (hotels, locations and points of interest) can be customised to suit your individual taste.
Subject to currency fluctuation.
Subject to availability.
Trips described on this site are not a quote or a set schedule, but a suggested trip that can be modified and await your confirmation.
All driving travel is subject to road and traffic conditions. If unforeseen conditions, deviations may be necessary.
Any nominated roads are shown as an indication only and not necessarily the roads travelled.
Full Travel/Health/Baggage Insurance is to be taken out by each traveller.
There are some accommodation locations that are most popular therefore the earliest confirmation of your intentions is recommeded.
Double room accommodation; Single room options available.
Free Day or Free time indicates that you have time to yourselves to explore, rest or sit around the pool.
Lists of sightseeing opportunities are available.
Non smoking trips
Full disclosure of any medical conditions is imperative including next of kin details.
Meal inclusions indicated are to a given value.
Legend:

[B] Breakfast included
[L] Lunch included
[D] Dinner included
Interesting Links
Here are some interesting links for you! Enjoy your stay :)